Anan Series
P - C - M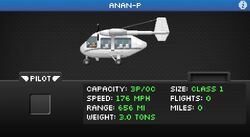 More info
Level Unlocked
6
Class
1
Capacity (P/C)
3
Capacity (M)
1 P, 2 C
Range (miles)
656
Speed (mph)
176
Weight (tons)
3.0
The Anan is a small propeller plane unlocked at level 6. It has 3 slots for either passengers/cargo. While it may be one of the better looking planes in the game, it is not worth buying. The real drawback is the range. The Anan can't cross the Atlantic Ocean, regardless of its upgrades. Buy an Airvan, Mohawk, X-10, or a Kangaroo instead.
The Anan takes obvious design influence from the real world IAI Arava.
Costs
Parts: 4

per part
To Build: 4

to build = 16

total
To Buy: 21

To Upgrade: 4

per upgrade (total of 9 upgrades available)
Upgrades
Type
Base
Level 1
Level 2
Level 3

Range
(miles)

656
689
722
754

Speed
(mph)

176
185
194
202

Weight
(tonnes)

3.0
2.85
2.7
2.55
Community content is available under
CC-BY-SA
unless otherwise noted.