(→‎top: clean up, typos fixed: world wide → worldwide)

 

Line 7:
Line 7:
 

|weight = 10.0|}}

 

|weight = 10.0|}}

 
 
−

'''The C-130 Hercules''' is a large turboprop aircraft. It is only available as a [[Events|Global Event]] prize. In real life, the C-130 Hercules has been in production for over 50 years. The current versions in production are the C-130J and C-130H. It is a transport backbone of many airforces world wide. It has evolved into versions like the AC-130 gunship and EC-130 radar jammer. The C-130 is very similar to the [[Sequoia Series|Sequoia]] series, sharing the same stats across the board, but while maintaining superior speed, meaning it will earn slightly less profit than a Sequoia.

+

'''The C-130 Hercules''' is a large turboprop aircraft. It is only available as a [[Events|Global Event]] prize. In real life, the C-130 Hercules has been in production for over 50 years. The current versions in production are the C-130J and C-130H. It is a transport backbone of many airforces . It has evolved into versions like the AC-130 gunship and EC-130 radar jammer. The C-130 is very similar to the [[Sequoia Series|Sequoia]] series, sharing the same stats across the board, but while maintaining superior speed, meaning it will earn slightly less profit than a Sequoia.

 
 
 

== Costs ==

 

== Costs ==
---
Latest revision as of 19:02, 20 December 2018
C-130 Hercules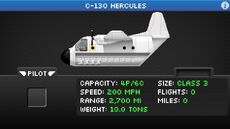 More info
Class
3
Capacity (M)
4 P, 6 C
Range (miles)
2,700
Speed (mph)
200
Weight (tons)
10.0
The C-130 Hercules is a large turboprop aircraft. It is only available as a Global Event prize. In real life, the C-130 Hercules has been in production for over 50 years. The current versions in production are the C-130J and C-130H. It is a transport backbone of many airforces worldwide. It has evolved into versions like the AC-130 gunship and EC-130 radar jammer. The C-130 is very similar to the Sequoia series, sharing the same stats across the board, but while maintaining superior speed, meaning it will earn slightly less profit than a Sequoia.
Costs
To Upgrade: 25

per upgrade
To Fully Upgrade: 225

(9 upgrades)
Upgrades
Type
Base
Level 1
Level 2
Level 3

Range
(miles)

2,700
2,835
2,970
3,105

Speed
(mph)

200
210
220
230

Weight
(tons)

10.0
9.5
9.0
8.5
---
Community content is available under
CC-BY-SA
unless otherwise noted.