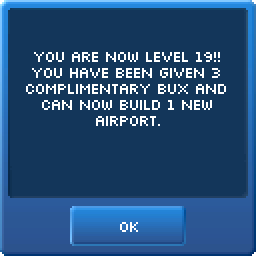 There is an unlimited number of levels in Pocket Planes. Each one takes an increasing amount of experience to earn. After each level up you earn 3 

 and the ability to purchase 2 more airports, but when updated to the latest version, 2 new airports are unlocked upon levelling up. On certain levels, you can also get an amount of coins or unlock new planes to buy. Starting from the Supergopher and ending at the Mohawk, every level up unlocks a new plane. Starting from the Mohawk and onwards, every 2 level ups unlocks a new plane.
Xp Formula: 

XP = C + P + (500 * B) + (2 * (B - 1))
​C = Total number of coins awarded for delivered cargo
P = Total number of coins awarded for delivered passengers
B = Total number of bux awarded for delivered items
Max Level
The maximum level in which a player is allowed to unlock something is 123, as after level 123, a player will have access to every airport in the game, as well as all planes. To date, level 123 has never been reached by anyone.
Planes
The Blimp, The Bobcat, The C-130 Hercules, The Concorde, The Hot Air Balloon, The Huey, The P-40 Warhawk, The Sea Knight and The Starship planes are not unlocked by leveling up, but by being in a certain position in the Global Event leaderboard.
Community content is available under
CC-BY-SA
unless otherwise noted.