Navigator Series
P - C - M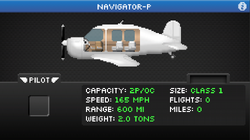 More info
Level Unlocked
1
Class
1
Capacity (P/C)
2
Capacity (M)
1 P, 1 C
Range (miles)
600
Speed (mph)
165
Weight (tons)
2.0
The Navigator is a propeller plane with two slots, and is given to the player at the start of the game as the -C variant. It is one of the best starter planes, due to its high speed and slots, but is outclassed by the Airvan later on.
The Navigator seems to have no 100% accurate real life inspiration, but the overall aircraft shape seems similar to the Vultee V-1.
Costs
Parts: 3

per part
To Build: 3

to build = 12

total
To Buy: 14

To Upgrade: 3

per upgrade (total of 9 upgrades available)
Upgrades
Type
Base
Level 1
Level 2
Level 3

Range
(miles)

600
630
660
690

Speed
(mph)

165
173
182
190

Weight
(tonnes)

2.0
1.9
1.8
1.7
Community content is available under
CC-BY-SA
unless otherwise noted.