Noki B6 Series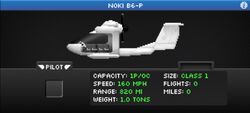 More info
Level Unlocked
30
Class
1
Capacity (P/C)
1
Range (miles)
820
Speed (mph)
160
Weight (tons)
1.0
The Noki B6 is a Class 1 aircraft. It is unlocked at Level 30. Since it is unlocked at level 30, the aircraft is mostly worthless to the average level 30er. It also unlocks with the UAV-C, which is more worthy. Although this plane is unlocked fairly late in the game, it can be great for new accounts, as its high range coupled with high speed can make it across the Atlantic Ocean.
It is based on the real world ICON A5.
Its paint job is the same for both P and C variant.
Costs
Parts: 3

per part
To Build: 3

to build = 12

total
To Buy: 16

To Upgrade: 3

per upgrade (total of 9 upgrades available)
Upgrades
Type
Base
Level 1
Level 2
Level 3

Range
(miles)

820

Speed
(mph)

160

Weight
(tonnes)

1.0
Community content is available under
CC-BY-SA
unless otherwise noted.