P-40 Warhawk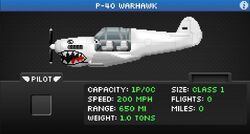 More info
Class
1
Capacity (P/C)
1 P
Range (miles)
650
Speed (mph)
220
Weight (tons)
1.0
The P-40 Warhawk is only available through a world event prize.
A P-40 Warhawk was given as a reward to the top 10 Flight Crews for the Brisbane World Event in June 2012, the Salvador World Event in August 2012, and the Air Museum Opening in Rio de Janeiro in May 2013. A P-40 Warhawk part was given as a reward to anyone who completed 5 or more jobs but finished outside the top 10.
The Curtiss P-40 Warhawk was an American WWII fighter and was the most numerous US fighter at the time of the Pearl Harbour attack in late 1941. The Warhawk served with the US, while in the UK and the USSR the B and C models were called Tomahawks, and D and C models were Kittyhawks.
The RAF used the aircraft alongside Hurricanes in the African Front, to conduct air-to-ground operations. At the end of the war, only 1 squadron was still equipped with the P-40, most replaced by more modern fighters like the P-47 Thunderbolt and the P-51 Mustang.
Costs
To Upgrade: 3

per upgrade
To Fully Upgrade: 27

(9 upgrades)
Upgrades
Type
Base
Level 1
Level 2
Level 3

Range
(miles)

650
683
715
748

Speed
(mph)

200
210
220
230

Weight
(tonnes)

1.0
0.95
0.9
0.85
---