Tetra Series
P - C - M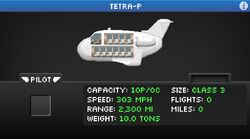 More info
Level Unlocked
24
Class
3
Capacity (P/C)
10
Capacity (M)
4 P, 6 C
Range (miles)
2,300
Speed (mph)
303
Weight (tons)
10.0
The Tetra is a jet aircraft that is unlocked at level 24. Its engines are placed at the rear of the plane, similar to the Pearjet series. The Tetra has many of the same statistics as the Sequoia series, such as the same capacity, and weight. Although the Tetra has a smaller range than the Sequoia, it travels 113 mph faster than the Sequoia.
Costs
Parts: 32

per part
To Build: 32

to build = 128

total
To Buy: 187

To Upgrade: 32

per upgrade (total of 9 upgrades available)
Upgrades
Type
Base
Level 1
Level 2
Level 3

Range
(miles)

2,300
2,415
2,530
2,645

Speed
(mph)

303
318
333
348

Weight
(tons)

10.0
9.5
9.0
8.5
Community content is available under
CC-BY-SA
unless otherwise noted.